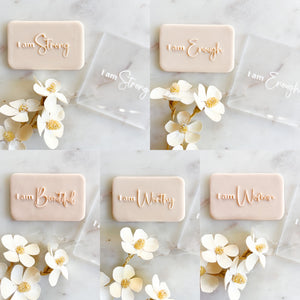 The Bundle is the DEFAULT please select from the drop down menu for individual affirmations.
Product:
Premium frosted acrylic.
Acrylic size 8cm x 8cm 
Cleaning Care:
The Embosser is reusable, wash with a sponge in warm soapy water using a very soft brush if needed for those small areas. Do not use any abrasive materials to clean it and do not put in the dishwasher.