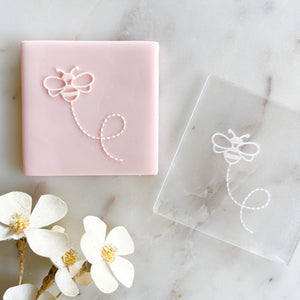 Product:
Premium frosted acrylic.
8cm x 8cm
Amelia's Tips:
1. Queens fondant works great for raised stamps in particular, i find it nice and soft which is perfect for getting that pop.
2. Make sure you fondant is thick enough roughly 2mm - 3mm thick and nice and fresh! fresh fondant gives you the best results. Once you start re using your piece of fondant or leaving it open in the air for too long it loses its softness.

3. Use cornflour on your work area and also lightly on the fondant.
3. Press the embosser with just enough pressure into your fondant to produce a beautiful embossed/raised effect.
Cleaning Care:
The Embosser is reusable, wash with a sponge in warm soapy water using a very soft brush if needed for those small areas. Do not use any abrasive materials to clean it and do not put in the dishwasher.